String Duo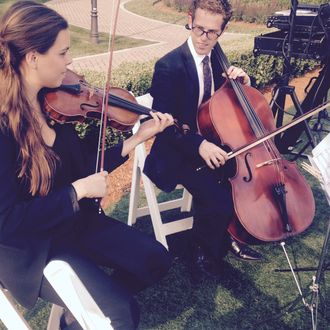 The string duo is our smallest ensemble.  While duo and solo string performances generally don't live up to the visual presence, harmony and volume when compared to our string trio and string quartet ensembles, the string duo can be perfect for intimate gatherings and also works well for indoor ceremonies or small outdoor ceremonies. Repertoire for solo and duo can be limited, and will only provide a melody and bass line. If you are thinking of having a string duo or solo at your wedding/event please get in touch and we can advise you of suitability.
We provide solo musicians for creative media-related performances, corporate entertainment, audio & video recordings and collaborations with other artists. 
String Duo Ceremony Music Ideas
Do you love modern hits that are popular today, but you also want to include a traditional aspect to your special day? Choosing songs performed by a String Duo can give you both. 
Prelude - 5-7 selections featuring music that inspires you.
Plan for about 20 minutes of music to play while guests find their seats and wait for the excitement to begin.
Traditional Ceremony 
Seating of Family: Vivaldi Winter
Wedding Party Processional: Jesu, Joy of Man's Desiring
Bridal/Groom Processional: Canon in D  
Unity Candle/Sand Pouring: Air by Handel
Recessional: Wedding March from Midsummer Night's Dream, Mendelssohn
Romantic Ceremony 
Seating of Family: What a Wonderful World  
Wedding Party Processional: Somewhere Over the Rainbow  
Bridal Processional: Can't Help Falling in Love  
Unity Candle/Sand Pouring: When I Fall in Love
Recessional: La Vie en Rose
Modern Pop Ceremony 
Seating of Family: God Only Knows, Beach Boys
Wedding Party Processional: Bittersweet Symphony, The Verve
Bridal Processional: A Thousand Years, Christina Perri
Unity Candle/Sand Pouring: When I Fall in Love
Recessional: A Sky Full of Stars
Versatility & Popular Songs for your Event!