String Trio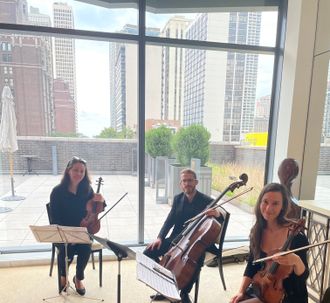 The string trio ensemble is our most popular ensemble. It is a flexible ensemble comprising of 2 violins and 1 cello, or 1 violin, 1 viola and 1 cello, suitable for all venues and spaces. The sound of the string trio is similar to the string quartet, although with one less instrument (usually the viola) is slightly softer, however usually more than adequate for weddings and receptions. The trio is well suited for performing contemporary songs and most classical pieces. This ensemble is a more affordable option to the string quartet.
String Trio Ceremony Music Ideas
Do you love modern hits that are popular today, but you also want to include a traditional aspect to your special day? Choosing songs performed by a String Trio can give you both.  
Prelude - 5-7 selections featuring music that inspires you. 
Plan for about 20 minutes of music to play while guests find their seats and wait for the excitement to begin.
Traditional Ceremony  
Seating of Family:  Brahms Theme 1st Symphony
Wedding Party Processional: Jesu, Joy of Man's Desiring 
Bridal/Groom Processional: Canon in D   
Unity Candle/Sand Pouring: Air by Handel 
Recessional: Wedding March from Midsummer Night's Dream, Mendelssohn
Romantic Ceremony
Seating of Family: What a Wonderful World   
Wedding Party Processional: Somewhere Over the Rainbow   
Bridal Processional: Can't Help Falling in Love   
Unity Candle/Sand Pouring: When I Fall in Love 
Recessional: La Vie en Rose
Modern Pop Ceremony  
Seating of Family: God Only Knows, Beach Boys 
Wedding Party Processional: Halo, Beyonce
Bridal Processional: A Thousand Years, Christina Perri 
Unity Candle/Sand Pouring: When I Fall in Love 
Recessional: A Sky Full of Stars
The String Family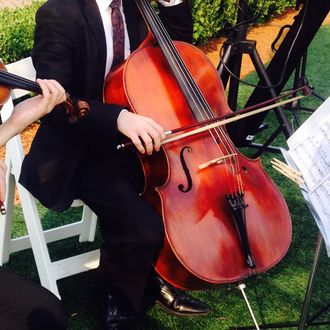 The Cello is two times larger than the viola and three times larger than the violin, and is played while seated. 
It boasts the deeper voice of a low and rugged C-string (much lower than the viola's), and the higher range of both alto and soprano notes. It is often used as rhythmical and harmony instrument. However, many orchestral works feature amazing and virtuostic melody lines for cellos.  
The Cello is a solo, chamber, and orchestral instrument with an extensive and diverse repertoire across many genres.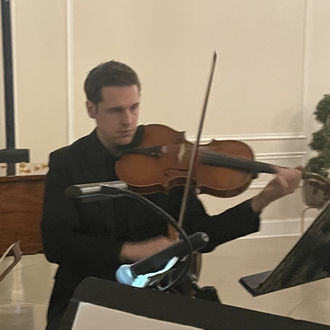 The Viola has also had a unique history. It boasts a middle pitch range between the violin and cello. 
It's a longer and wider instrument than the violin, but still held in a horizontal position under the chin of the player.  
Repertoire composed for the viola is not as extensive as the violin or cello. However, there are many gorgeous works featuring viola, and it's quickly gaining popularity across genres for its mellow and haunting tone. Also, many works for violin transpose to the viola.